Actualités

Publiée par Vincent le
Le fameux mod Modern Warfare de Medal of Honor: Allied Assault va bientôt se refaire une santé. Un groupe de moddeurs ont dévoilé, au public, leur projet qui consiste à faire renaitre le mod...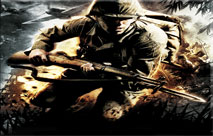 Publiée par Vincent le
Pour ceux qui voudraient jouer à Medal of Honor:Pacific Assault, nous vous rappelons que le dernier patch en date s'estampillé 1.12. Ce dernier offre de nombreuses améliorations comme la...
Archives :