Zoom sur l'actualité !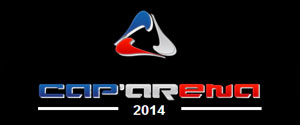 Le mouvement associatif
Event To Give
vous informe de la troisième édition de la Cap'Arena qui se déroulera du 9 au 11 mai 2014 à Cappelle la Grande dans le Nord-Pas-de-Calais (59) !
Cap'Arena est un évènement e-sport français où plus de 1000 cyber-athlètes s'affronteront sous le regard de prés de 5000 visiteurs. Par ailleurs, en plus d'être la Lan Party Française, l'évènement accueillera le Festival des Jeux Vidéos du Nord-Pas-de-Calais.
Petite particularité pour cette année, cette édition proposera un important tournoi en 2vs2 en Offline sur Medal of Honor Allied Assault !
Des Cashprize seront mis en jeu pour les gagnants des différents tournois proposés sur les disciplines suivantes :
- Counter Strike Global Offensive
- League Of Legends
- Starcraft 2
- Shootmania
- COD Ghosts (Xbox et PS)
- FIFA 14(1v1 et 2v2)
- Battlefield 4 (PC)
- Trackmania (Valley et Stadium)
-
Medal Of Honor Allied Assault
Si vous voulez participer à cet évènement sachez que la billetterie pour les visiteurs, les managers, la presse et les accès ViP est déjà ouverte. Tandis que celle des cyber-athlètes n'ouvrira que le 25 Janvier 2014 à 19H00.
Pour plus de renseignements, rendez-vous sur le site de la
Cap'Arena #3
ou bien lisez
l'article AFJV
; et pour un aperçu de l'édition 2 sur le site
Cappelle La Grande TV
!
Les derniers commentaires de la Communauté MOH France !
1