Zoom sur l'actualité !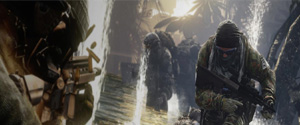 Le Challenge Facebook / Medal of Honor Warfighter progresse à grand pas !
Cette nuit, la participation a atteint les 91%, ce qui laisse une petite marge pour le déblocage du nouveau trailer multijoueur de Medal of Honor Warfighter !
Comme prévu, dernière les covers de la Page Facebook Officiel du jeu, nous pouvons découvrir un total de trois nouveaux visuels d'une carte multijoueur (aux Philippines?) !
Pour rappel, le Challenge arrive à ses fins, le trailer devrait être dévoilé dans les prochaines heures ! Si vous voulez booster sa sortie, n'hésitez pas à participer sur la
Page Officielle Facebook
du jeu Medal of Honor Warfighter !
Les derniers commentaires de la Communauté MOH France !
Aucun commentaire