Zoom sur l'actualité !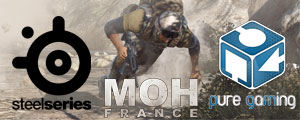 Afin de célébrer les 10 ans la société, les produits SteelSeries dérivés de Medal of Honor,
sont proposés avec une réduction de 35%
!
Ci-dessous un aperçu de leur gamme de produits dérivés Medal of Honor, dédiée aux jeux en ligne :
Les derniers commentaires de la Communauté MOH France !
Aucun commentaire