Zoom sur l'actualité !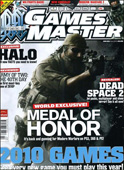 Une nouvelle revue traitant du nouveau Medal of Honor vient de sortir au Royaume-Uni, il s'agit du magazine
GamesMaster
!
Dans cette édition, le magazine nous fait part de son ressenti sur le prochain Medal of Honor, à travers 5 pages illustrées de captures d'écran, d'une interview avec les Tiers 1 Ops, et plus encore...
Au final, le magazine GamesMaster ressort confiant en concluant sur ces mots :
"If Medal of Honor's graphics come close to this standard in the final release, it'll be one of the best looking shooters of the generation."
Les derniers commentaires de la Communauté MOH France !
Aucun commentaire