Zoom sur l'actualité !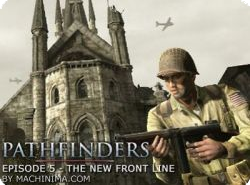 La série Pathfinders touche à sa fin, voici l'avant dernier épisode The New Front Line !
Cet épisode, tourné sur la map multi-joueurs : The Hunt (La Traque), est axé sur la vengeance de la troupe du Capitaine Dodge des derniers évènements où de nombreux coéquipiers ont péri lors de l'Opération Market Garden !
Les derniers commentaires de la Communauté MOH France !
1